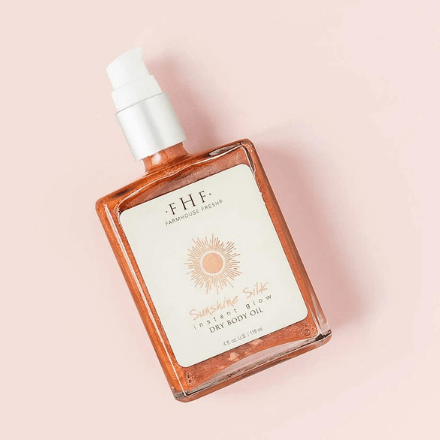 Farmhouse Fresh Sunshine Silk® Shimmer Air Oil
A shimmery, sun-kissed look in an instant! Fast-absorbing and feathery-light, Sunshine Silk™ Instant Glow Dry Body Oil brings a warm hue to skin, and a seriously silky feel that's dry to the touch. Skin is made to feel so magnificently soft, you can't stop touching it!
The warm sunset hue, and additional rose-copper natural minerals leave skin looking radiant and perfected with notes of creamy vanilla & juicy tangerines. The best part? It's a silicone-free formula that nourishes skin with U.S-grown non-GMO Sunflower Seed Oil which is high in Omega 6 essential fatty acids.

Plus, it's infused with vitamin K-rich micro red amaranth extract grown on the FarmHouse Fresh farm! Micro amaranth is more vitamin K-dense than many powerhouse vegetables like broccoli. So you enjoy high nutrition skincare as you glow about your day.