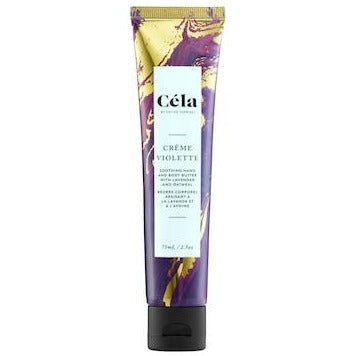 This soothing hand and body butter made with lavender and colloidal oatmeal helps soothe the body and mind. Perfect for those who need a little extra relaxation, the Créme Violette contains a lavender aroma. Working as a anxiolytic (an anxiety reliever), lavender increases relaxation and helps aid in sleep.
Infused with the signature Céla Complex, a potent blend of Canadian botanicals, cupuaçu butter, and Abyssinian oil, this velvety body cream hydrates and softens skin, being sure to leave you hydrated and relaxed.
HOW TO USE: Massage a dollop of this ultra-concentrated cream all over the body, paying extra attention to areas prone to dryness, such as elbows, knees, and heels. Repeat as often as desired. As with all moisturizers, Crème Violette is most effective when applied immediately after a bath or shower, on slightly damp skin.
While allowing time for the cream to melt into skin and its plant-powered ingredients to be absorbed, practice mindful breathing. Deep inhalations will ensure you derive the calming and mood-balancing benefits of Crème Violette's essential oil blend.