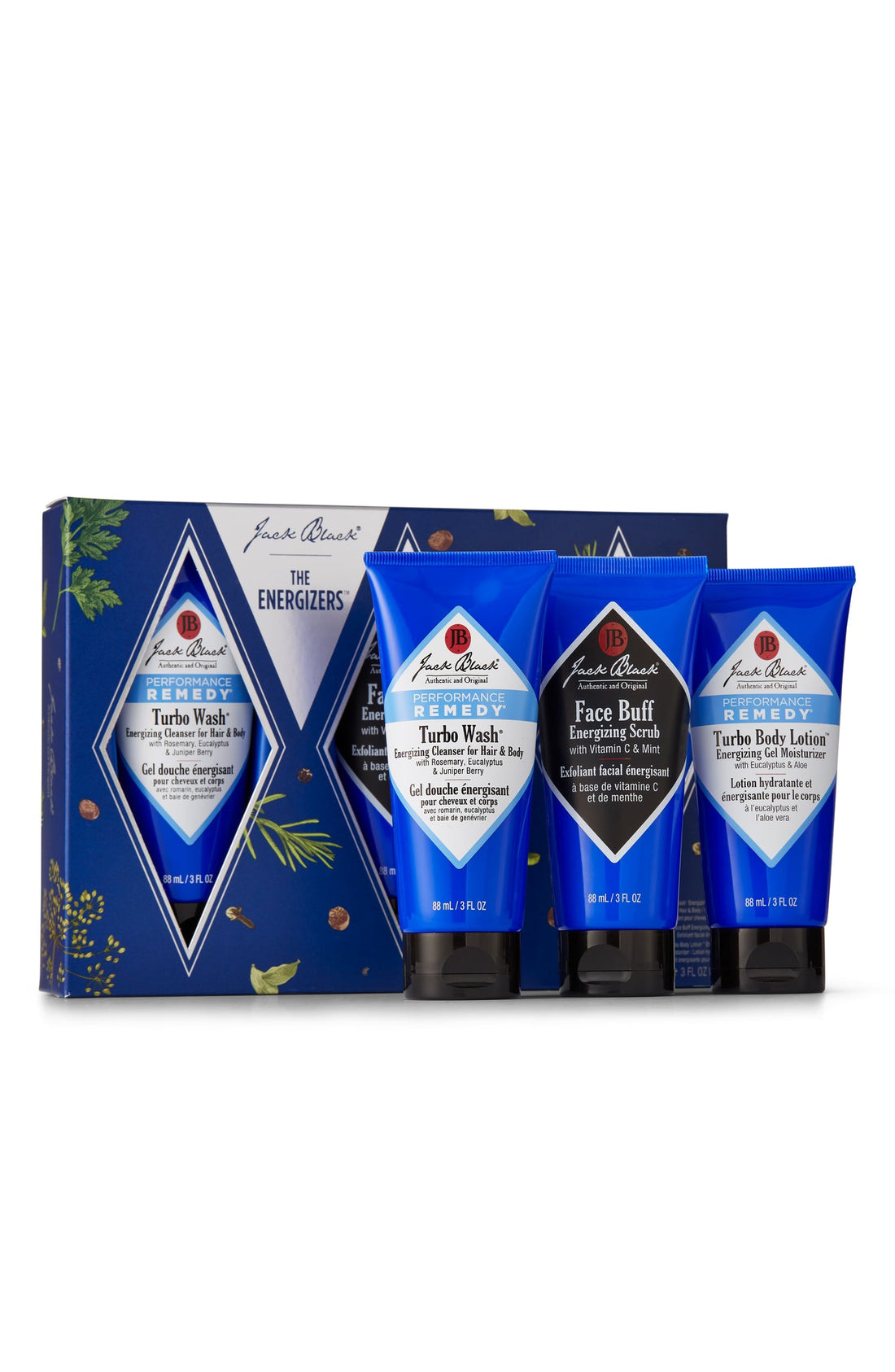 Jack Black Holiday The Energizers Set
Refresh and energize your skin with this cleansing and hydrating trio. No better way to start or end the day than with the Face Buff's gentle exfoliation and Turbo's iconic eucalyptus aroma.
What's In It:
Turbo Wash™ Energizing Cleanser for Hair & Body: This dual-purpose, sulfate-free body and hair cleanser washes away dirt and sweat without over drying, leaving the entire body feeling revitalized for peak performance. Rosemary and Eucalyptus offer a cool, refreshing aroma to energize the senses while the soothing properties of Juniper Berry and Arnica help relax overworked and tired muscles. A blend of sulfate-free cleansing agents effectively cleanse the skin and hair without the stripping of essential moisture.

Face Buff Energizing Scrub: A pre-shave cleanser and facial scrub in one that gently exfoliates for an easier, closer shave. Eco-friendly, biodegradable scrubbing particles help to unclog pores, prevent ingrown hairs, and minimize shaving irritation. Removes oil, dirt, and dead skin cells to leave a clear path for your blade.

Turbo Body Lotion™ Energizing Gel Moisturizer: This unique gel-to-lotion body moisturizer features Jack Black's best-selling Turbo aroma. The lightweight, fast-absorbing moisturizer goes on smoothly to nourish and hydrate body skin. Rosemary Extract and Eucalyptus combine to invigorate the senses, cool, and refresh the skin. The Prickly Pear Seed Oil and Aloe provide quick-absorbing, clean-feeling hydration. Perfect for use after a shower or anytime skin feels dry.