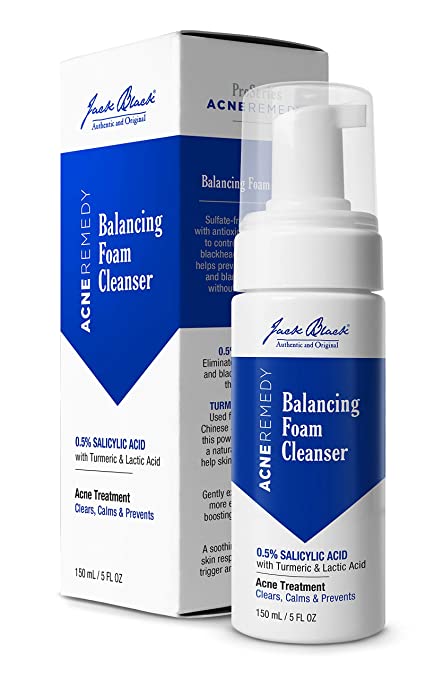 Jack Black Balancing Foam Cleanser
Description
Sulfate-free foaming cleanser with antioxidants penetrates pores to control acne blemishes and blackheads. Luxe, oil-free foam helps prevent new acne blemishes and blackheads from forming without overdrying the skin.
Jack Black's exclusive blend of Salicylic and Lactic Acids, Turmeric Root Extract, Aloe Vera, and Bisabolol helps refine and smooth skin texture, helps soothe inflamed skin, and helps skin adapt to stressors that can trigger breakouts.
The Acne Remedy
Oil Free
Vegan
Sulfate Free
Alcohol Free
Paraben Free
Colorant Free
Fragrance Free
Dermatologist Tested
Cruelty Free

NOTE: When starting a new acne regimen, additional breakouts may occur initially. This is caused by a natural purge of bacteria. A consistent, daily acne treatment routine can help break the cycle.

CAUTION: Do not store at high temperatures for extended periods of time.
What's In It
ACTIVE INGREDIENTS
0.5% Salicylic Acid: Eliminates most acne blemishes and blackheads and helps keep them from forming.

INACTIVE INGREDIENTS
Turmeric Root Extract: Used for over 2,500 years in Chinese and Ayurvedic medicine, this powerful adaptogenic root is a natural antioxidant known to help skin fight external stressors. Natural remedy that is known to gently clarify, nourish, and balance the skin.

Lactic Acid: Gently exfoliates for a smoother, more even complexion while boosting skin's moisture levels.

Aloe Vera: A soothing adaptogen that helps skin respond to stresses that can trigger an inflammatory response.

Bisabolol: Known to help fight bad bacteria and help reduce the appearance of redness and soothe skin.
How & When To Use It?
Dispense 1-2 pumps into hand, apply to damp or dry face, and massage into skin in a circular motion. Rinse thoroughly with warm water and pat dry. Use morning and evening.