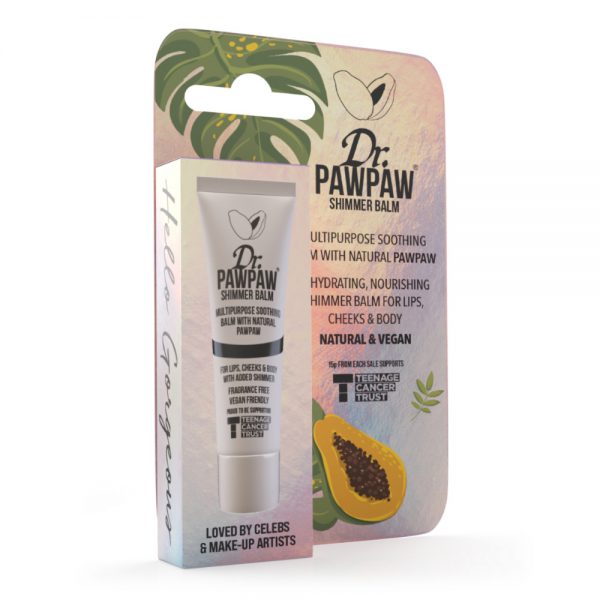 Dr. PAWPAW Shimmer Balm Multipurpose Soothing Balm
Dr.PAWPAW Shimmer Balm is enriched with the award-winning Dr.PAWPAW Original Balm formula which houses a mix of sustainably sourced and results-led ingredients including PAWPAW (Papaya Fruit), Castor Oil, Olive Oil and Aloe Vera. Dr.PAWPAW Shimmer Balm is created with environmentally friendly iridescent pearls to add an instant glow to lips and skin, alongside the nourishing, moisturising and soothing effects found in the complete Dr.PAWPAW balm range.
 97% Natural, vegan, and cruelty-free. Dr.PAWPAW Shimmer Balm can be applied to lips, cheekbones, décolletage and the front of the legs, anywhere you'd like your skin to shimmer and shine. The pearlescent effect is also buildable, so you can create a soft subtle glow or a full on glam look, suitable for all ages. Use alone on lips or with your favourite lipstick, try on eyes to create a dewy shimmer effect and apply to cheeks as a cream highlighter. Long-lasting, housed in 100% recyclable packaging and suitable for all skin tones and types.