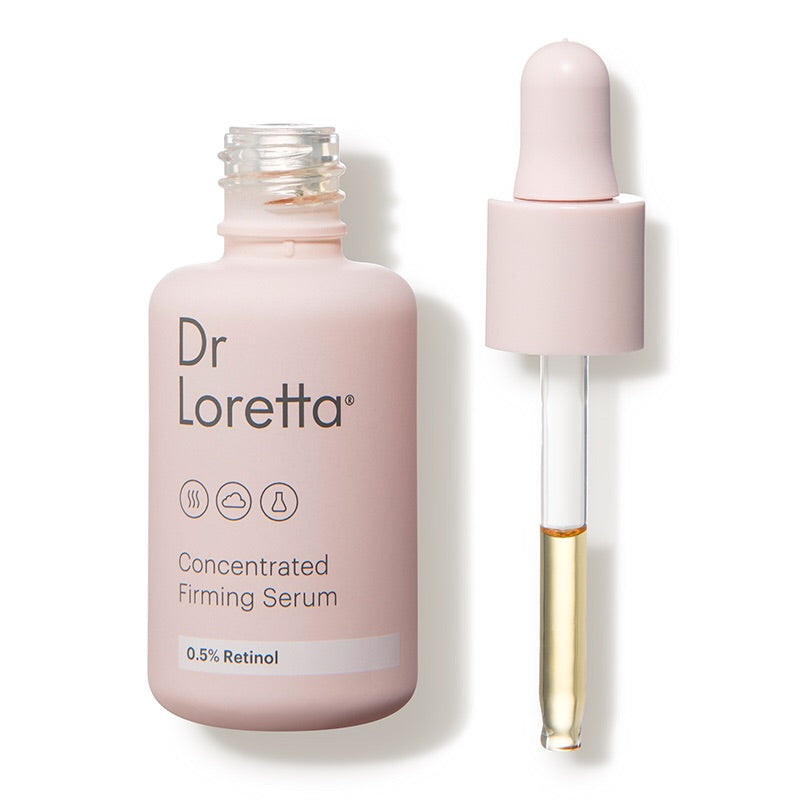 Dr. Loretta Concentrated Firming Serum
Lessens appearance of wrinkles and dark spots.
This anti-aging serum visibly firms skin and reduces the look of wrinkles and dark spots while refining pore appearance. Retinol supports collagen, protects from free radical damage caused by pollution and exfoliates dead cells from skin surface. Lipids keep skin hydrated to firm appearance and minimize dryness and redness.
Key Ingredients:
0.5% Retinol: Boosts collagen production to reduce the appearance of lines and prevent wrinkles. Speeds cell turnover to remove stores of pigment from skin. Brightens tone and unclogs pores to make them appear smaller and reduce breakouts.
Bioidentical Skin Lipids: Replenish moisture to provide instant radiance and luster and keep skin well hydrated even in dry, climate-controlled environments and during seasonal colder weather.
Directions: After cleansing, apply to face, neck and back of hands. Apply in the evening only for first two weeks and then twice a day if tolerated. If skin is sensitive, can also start by using only Monday, Wednesday and Friday at bedtime for the first two weeks.  Follow with Concentrated Firming Moisturizer. Always use Urban Antioxidant Sunscreen in the morning when using this product.
Warning: Never apply to skin that is red, peeling or sensitive.
How to Use Dropper
Unscrew cap.

Squeeze bulb for 3 seconds.

Release bulb.

Remove dropper and squeeze to dispense.
Size: 1 fl oz / 30 mL