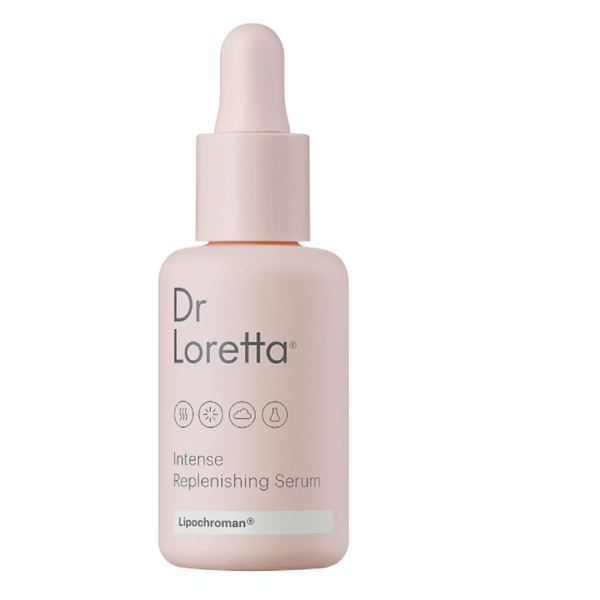 Dr. Loretta Intense Replenishing Serum
Primes, soothes and protects skin.
This hydrating serum plumps skin appearance while increasing luminosity and smoothness. Antioxidant Lipochroman® protects against free radical damage caused by pollution and UV radiation - the leading causes of fine lines and age spots. Glycolipids replenish moisture loss caused by climate conditions, while vitamins E and F calm skin redness.
Key Ingredients:
Bioidentical Skin Lipids: Replenish moisture to provide instant radiance and keep skin well-hydrated even in dry, colder environments.
Antioxidant Lipochroman®: One of the strongest antioxidants in skincare, protects from pollution including oxygen, nitrogen, and carbon free radical damage and tiny particles of urban dust known to damage skin cells and promote wrinkles and age spots.
Vitamin F (Linoleic and Linolenic acids) and Lecithin: Skin essential oils that are vital to a healthy skin barrier as they prevent water loss from skin surface.
Directions: After cleansing, apply to face, neck and back of hands. This serum can also be mixed with any of our other Dr Loretta serums in the palm of the hand and then applied to treatment areas to boost skin hydration.  Follow with our Dr. Loretta® moisturizers. Use AM and PM. Always finish your regimen with Urban Antioxidant Sunscreen in the morning.
How to Use Dropper
Unscrew cap.

Squeeze bulb for 3 seconds.

Release bulb.

Remove dropper and squeeze to dispense.
Size: 1 fl oz / 30 mL